QuickBooks 2022: New Pricing Structure, System Requirements
Whether or not you're ready for the latest version of QuickBooks, you should know about some important changes.
Sometimes, deciding that you need to upgrade a piece of software is easy. Either a newer version has features you need that your current product lacks, or you've outgrown the capacity of the application. You may be hesitant to move up, though, because you don't want to start over learning a new user interface and command structure.
Fortunately. QuickBooks hasn't made overwhelmingly drastic changes in its user experience for a long time. Even if you jump two or three versions, what you'll see should be fairly familiar, with the exception of any new features that have been added.
QuickBooks 2022 looks a lot like QuickBooks 2021, but Intuit has introduced significant changes for its flagship software. When you upgrade to the 2022 version, you'll find that the company has altered its pricing structure. You may also not be able to install and run it if your PC is a few years old. And getting bills into your company file is easier.
A New Annual Obligation
As you probably know, QuickBooks Online is a subscription product. That is, you can keep using it for as long as you pay your subscription fees once a month. The desktop versions of QuickBooks have always required one upfront payment that allows you to keep using the software for as long as you want (though Intuit discontinues support for older products eventually).
Starting with the 2022 versions of desktop QuickBooks, you'll pay an annual subscription fee that you'll need to renew every 12 months. If you don't, you won't be able to continue to use the software.
Note: If you have an older version of QuickBooks, you may not know that all desktop products now are "Plus" versions. These include unlimited support, data backups, and annual upgrades.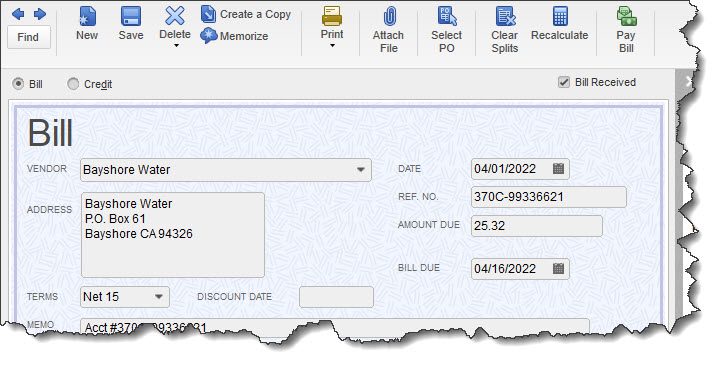 Up until now, you had to enter bills manually. QuickBooks 2022 allows you to upload them from its mobile app, among other new options.
QuickBooks Pro Plus 2022 costs $349.99 annually for one user. You'll need to pay another $200 for each additional user (up to three). QuickBooks Premier Plus 2022 is $549.99 per year. Additional users are $300 each for up to five users. We don't usually write about QuickBooks Enterprise, but if you're outgrowing Premier and want to stay in the QuickBooks family, talk to us about upgrading. QuickBooks Enterprise 22.0 costs $804 per year ($1,340 after the first year) and supports up to 40 users.
Easier Bill Entry
You probably already know how to manage bills in QuickBooks. You open the Vendors menu and select Enter Bills, provide the basic details, and save it. You go to Vendors | Pay Bills when you're ready. That bill template will be available for paying subsequent bills (using a different date and—usually—amount).
If you upgrade to QuickBooks 2022, you'll be able to complete this step in numerous ways. You'll have several options for automating your bill entry. You can:
Download the QuickBooks Desktop mobile app (be sure to get the right one – there's another mobile app for QuickBooks Online). Click Snap Bill, then Upload photo. It will be available in QuickBooks on a bill entry form with some of its details (like date, amount, and vendor) already transferred from the photo and filled in. You can edit it and treat it like any other bill. QuickBooks 2022 Premier Plus and Enterprise and above only
Email PDFs of your bills, using a custom email address ending in @qbdesktopdocs.com.
Take a photo using your mobile device's camera (not the QuickBooks app) and email it to your custom email address.
Upload photos of bills from Google Drive.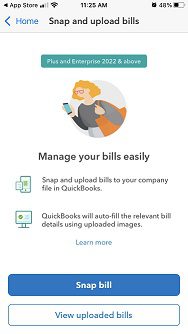 Using the QuickBooks Desktop mobile app, you can snap photos of bills and upload them to QuickBooks (QuickBooks Premier Plus 2022 and Enterprise).
Keep in mind that this technology is not perfect. You may have to practice with it some, and all of the expected data may not transfer every time.
Improved Performance
If you have a large QuickBooks company file and/or an older computer, you may notice that the software runs slowly. QuickBooks 2022 has enhanced the product's performance by taking advantage of the 64-bit processor – in some cases, by 38 percent, according to Intuit.
Note: If you're not sure whether your PC has a 32-bit or 64-bit processor, click on the Windows Start menu and select Control Panel, then System and Security | System.
We're not pushing the 2022 versions of QuickBooks. Your current version may be working fine for you, in which case you probably don't want to upgrade. But we wanted you to know what's coming down the pike for the future of QuickBooks Desktop. When the time comes for you to move up to the current version, we can help you make that decision and deal with any installation issues. In the meantime, we hope that the software is helping you do your accounting work as productively and efficiently as possible.
SOCIAL MEDIA POSTS
Did you know that QuickBooks' Desktop pricing is very different for 2022? Intuit is now charging an annual subscription fee.
How do you know when it's time to upgrade your copy of QuickBooks Desktop? There are many signs. We can help you decide.
QuickBooks 2022, when installed on a 64-bit PC, can run significantly faster than earlier versions, according to Intuit.
QuickBooks 2022 offers numerous new ways to move your billing data into the software. Ask us about this.